Customers' Bikes
Please email us via the 'contact us' page if you would like to have
your bike added here. We'll get back to you with the email address
to send your photograph. This is to prevent us being inundated
Here is our very first submission for the customers' bikes page! It's from Nick Martin,
who is lucky enough to live in the sunny Balearics. His pristine looking GT750 L is currently
unwell as its voltage regulator has gone pop.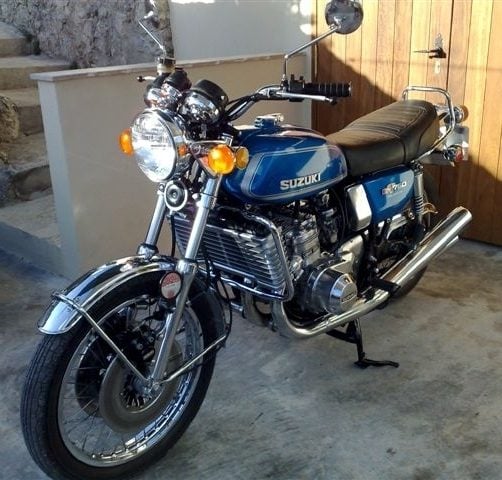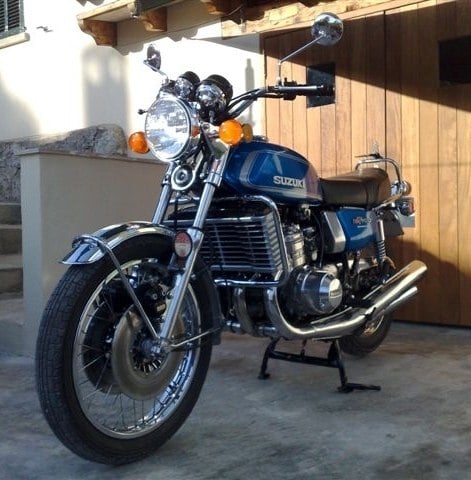 Here are two more shots of Nick's GT750.
This is the 'before' picture of Bjorn's GT550. Bjorn lives in cloudy Iceland.
He's done a great job of his restoration, see the picture below of his finished bike.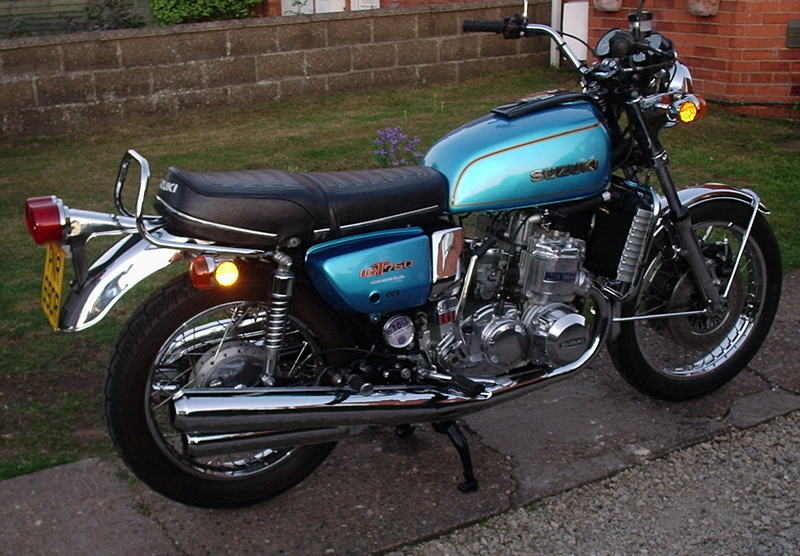 This is Steve Limb's GT750 A. Looks better than new!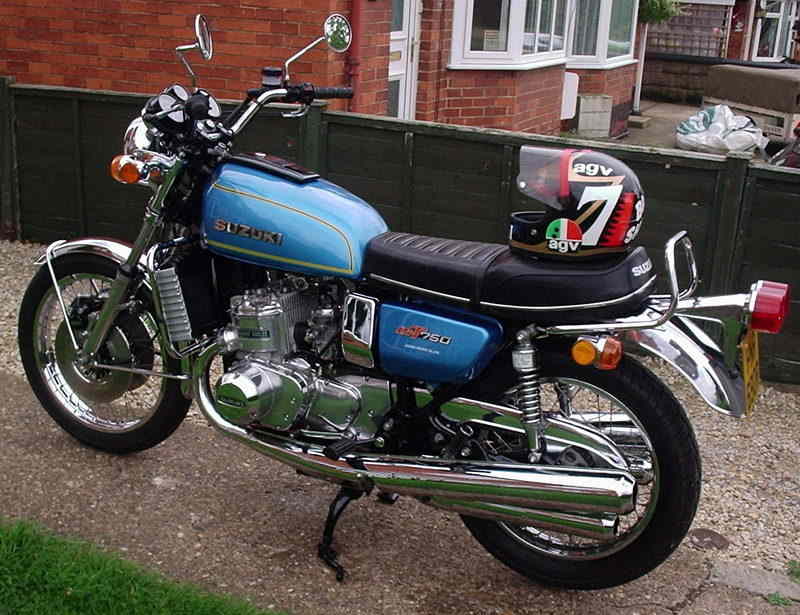 Nearside view of Steve's bike, complete with retro Sheene helmet.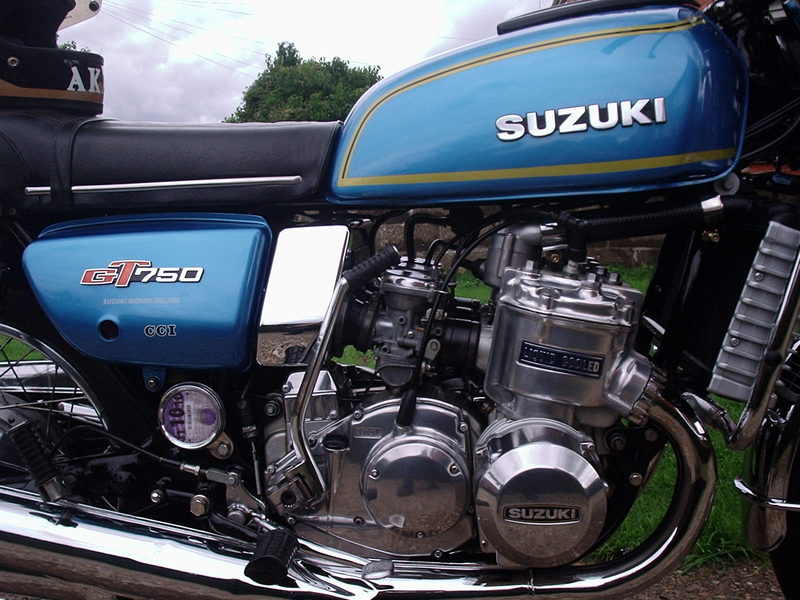 Close-up shot of Steve's very clean engine.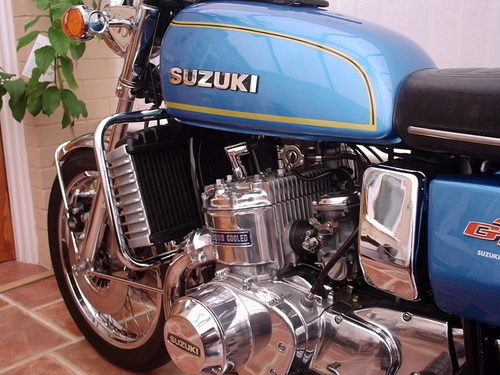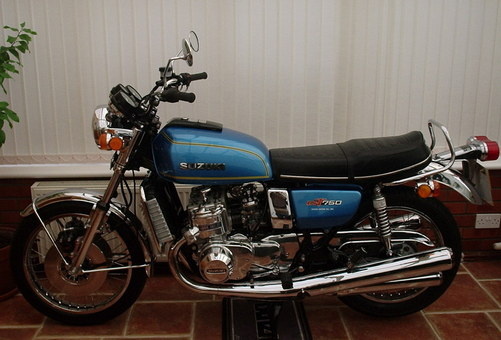 Two more shots from Steve Limb (above).
Doug Hughes' GT185. This is before, if you hadn't already realised.
Nearly there and looking good.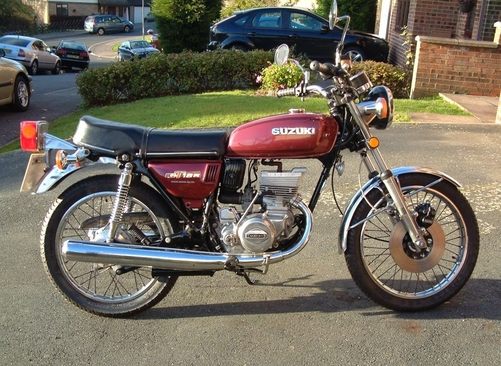 I wasn't expecting this colour, but it looks great. Very similar colour to
my home-sprayed FS1-E DX! (last seen in 1981).
Before shot of Andy Fraser's GT550. He's got to be a patient man.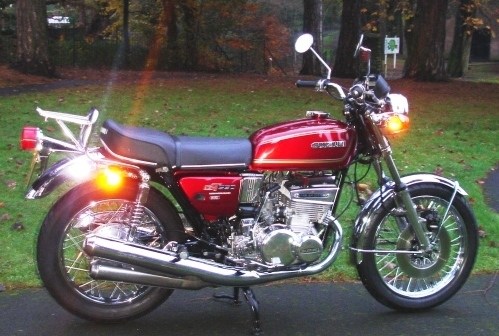 Patient and a perfectionist by the look of it!
This GT250 is from Charles in Switzerland.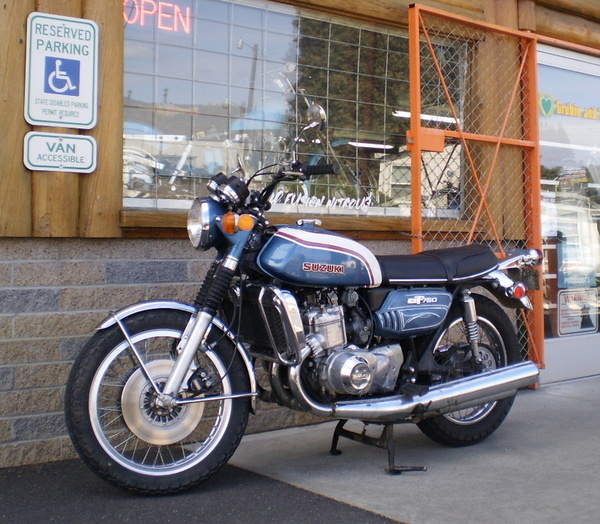 Bill & Leslie's GT750 K. They are from the USA and have their own motorcycle shop.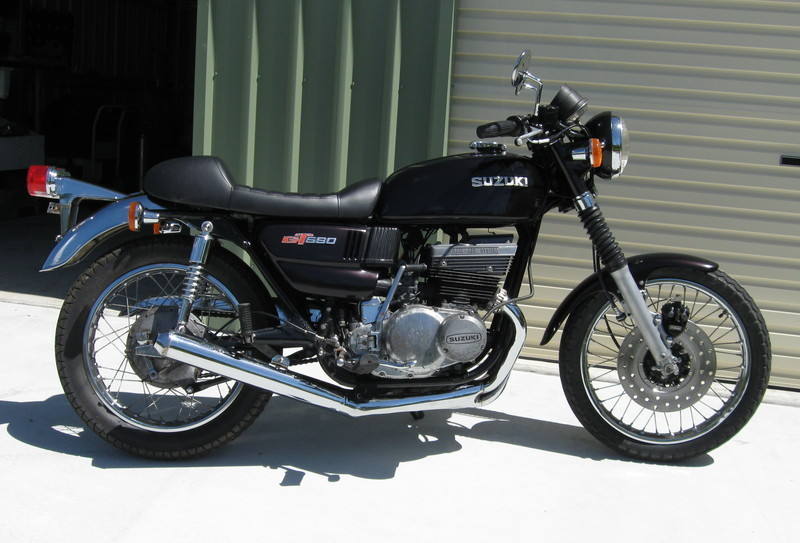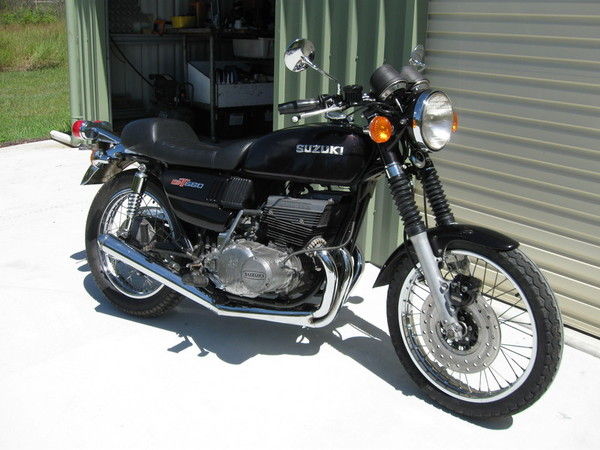 Trevor Inskip's modified GT380J. The weather looks lovely in Australia.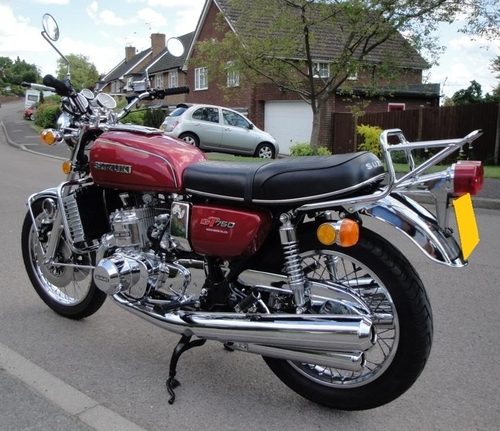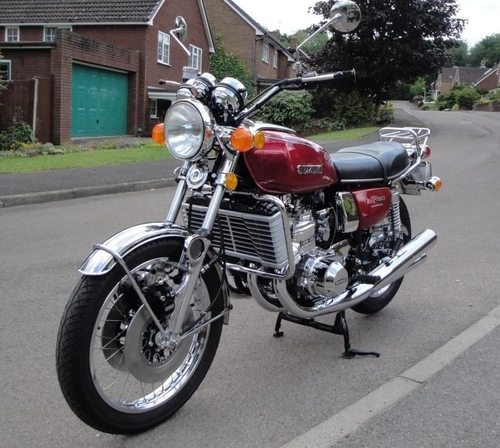 Pete Chupka's immaculate 750. Two years to make it this good!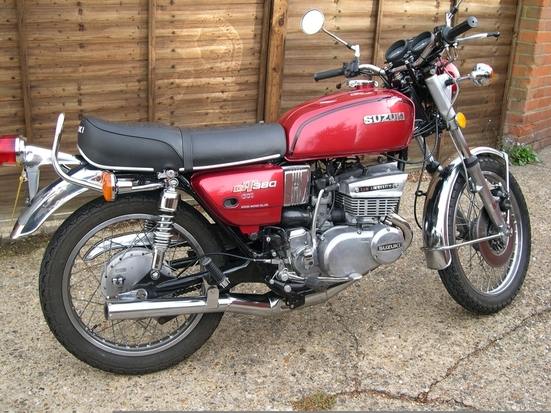 Mick Adams' GT380 with Piper 3-1.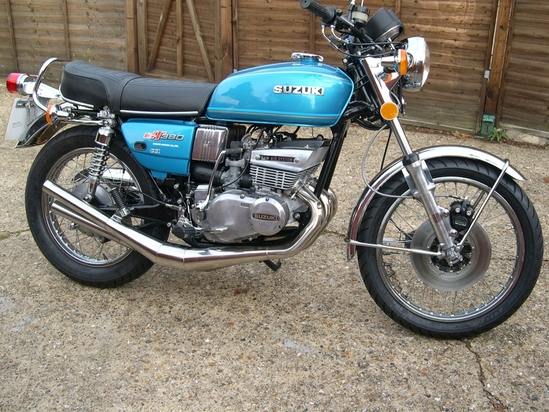 And this also belongs to Mick, with a Higgspeed 3-3 exhaust set up.
Australian Paul Keating's GT380 before restoration.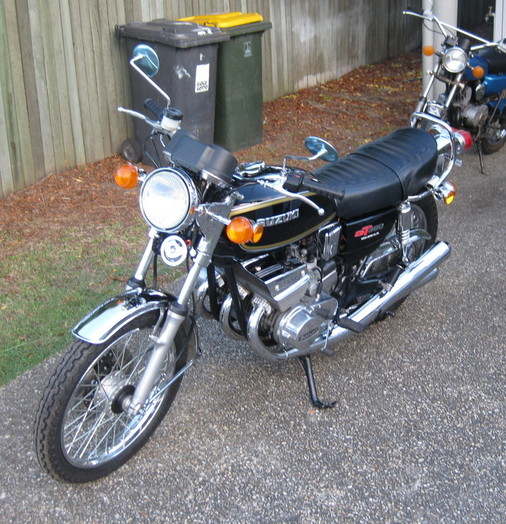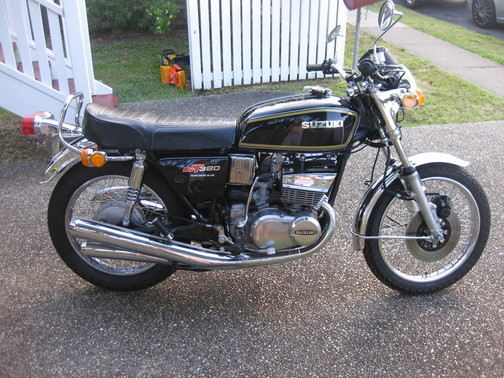 As you can see, Paul's done a great job.
Andy Westlake's hub-centre steered, Difazio GT550. A unique machine.
Another Difazio, this time with a GT500 engine. This is owned by Kevin Charles
and features semi-monocoque construction.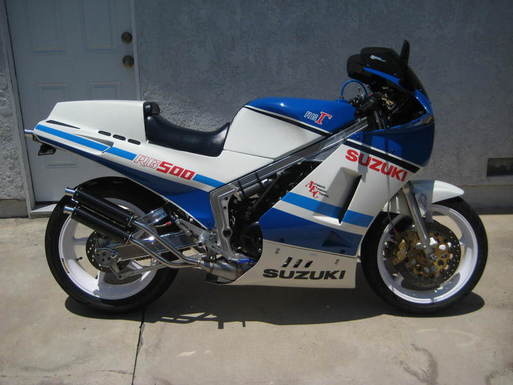 Mike from the USA owns this lovely RG500.
Harald from Germany is starting with this.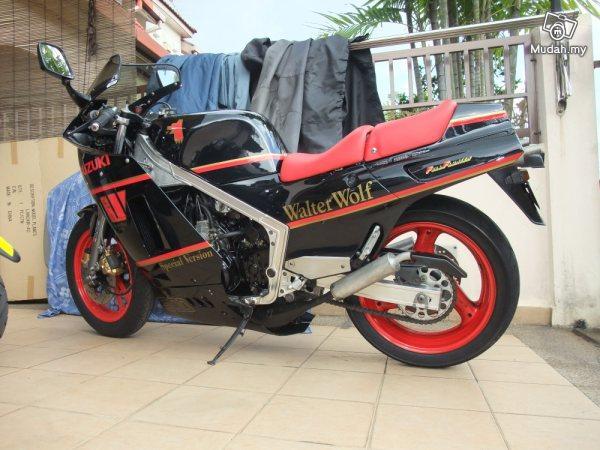 Chris Birkett's RG500 Walter Wolf.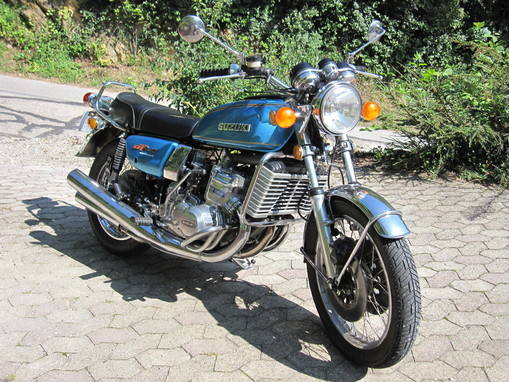 Jean Charle Callier's GT750 in sunny France.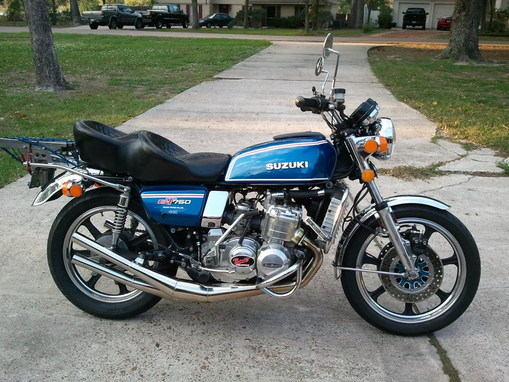 Ed Wolf's modified 750. All the way from the US of A.
Drazen's immaculate RG500. From Split, Croatia.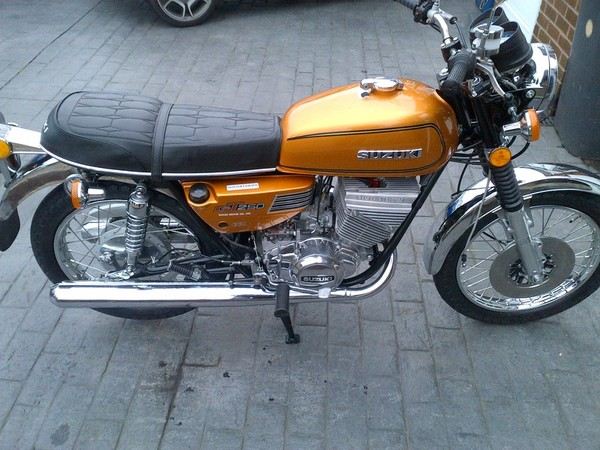 Tony Yates' GT250K
Rescued from a 15 year spell in a garage. It didn't look like this.
Amazingly, this is Tony's first restoration...
... and he has done a fantastic job.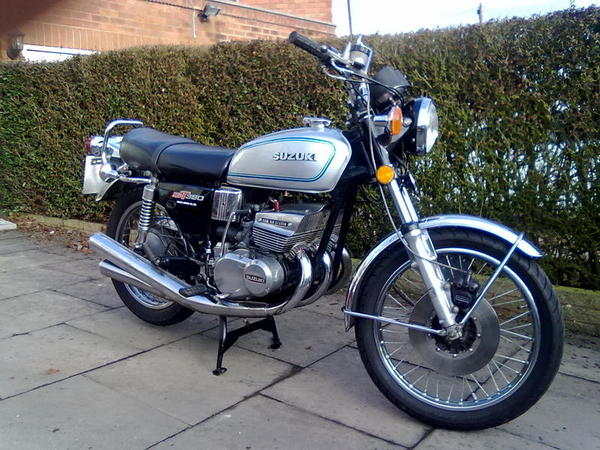 Paul Graydon's GT380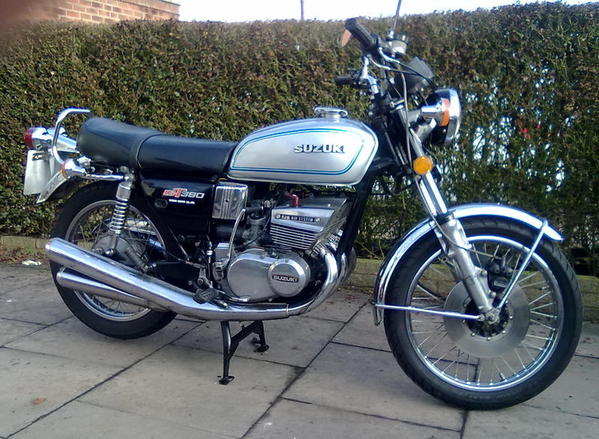 A lovely looker, from Solihull, UK.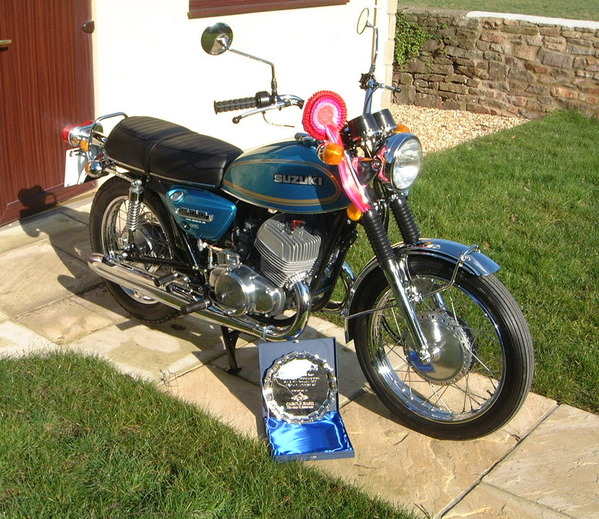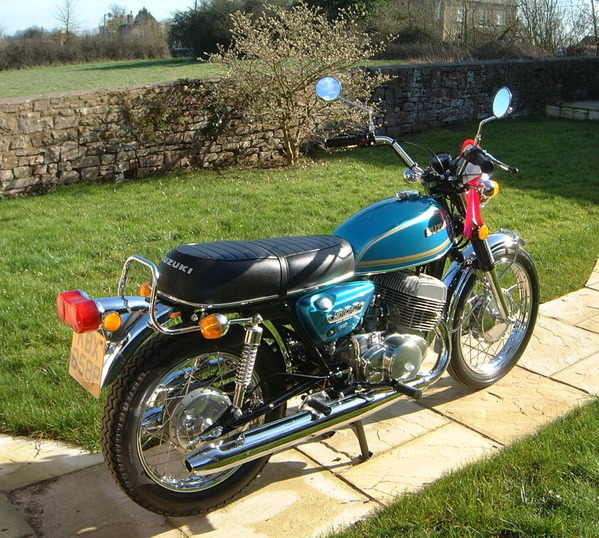 Paul Cann's T500. Show winner at Bristol classic bike show, Shepton Mallet February 2012.
Before shot of Charles Howard's German import X7. Did someone throw on that black paint?
Brilliant restoration.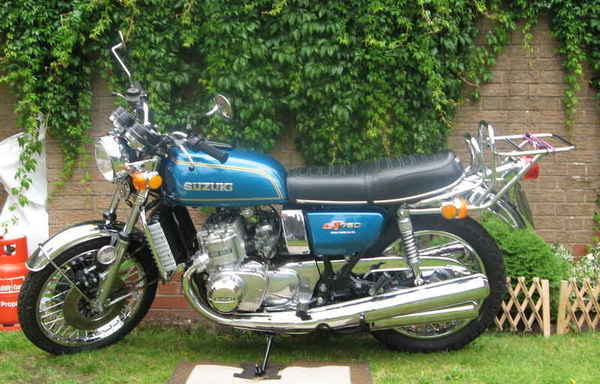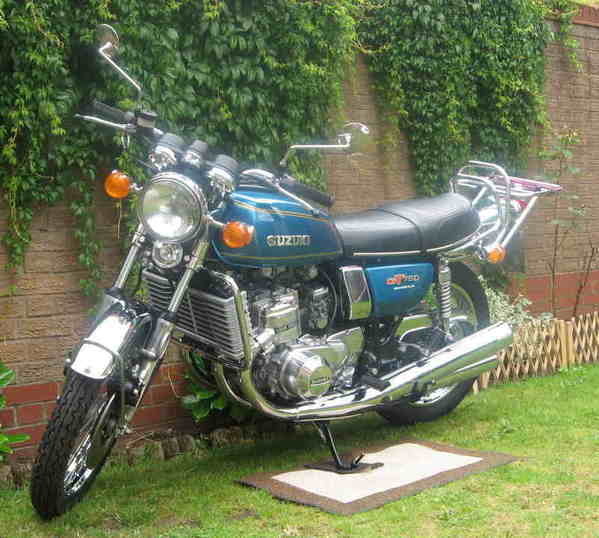 Dave Jones from Warrington sent these pictures of his GT750. It's where all his pennies go, he says!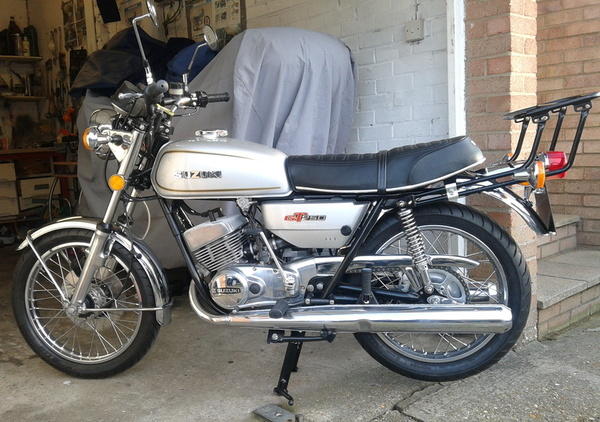 Phil Mayhew's GT250.
Olivier Cantin's modified RG500. From France.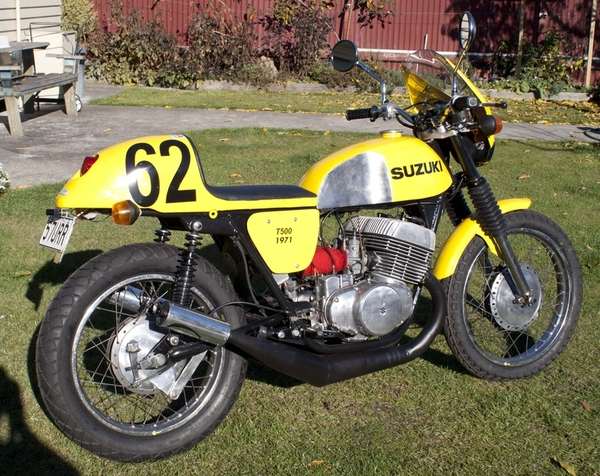 Terry Knight's T500. Currently in road trim for running-in, before Terry makes his
road race debut at the age of 62! Way to go! Terry is from New Zealand.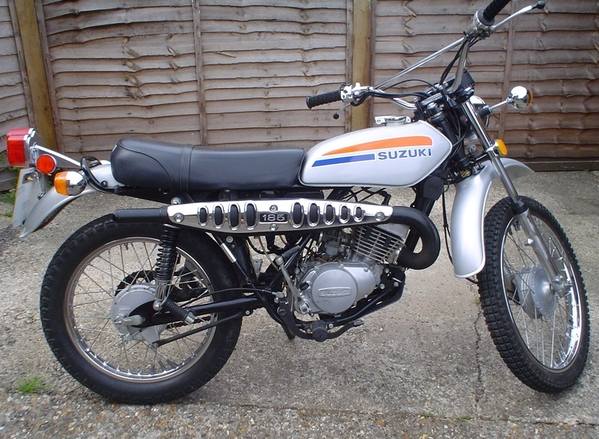 A super looking TS185 from Dave Taylor.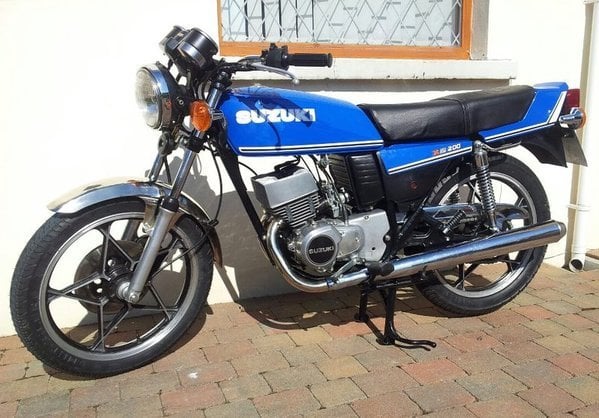 Before and after shots of Glenn Thompson's X5.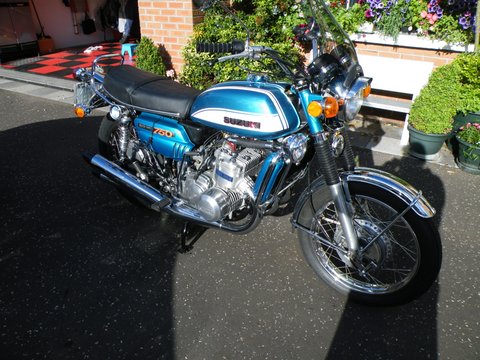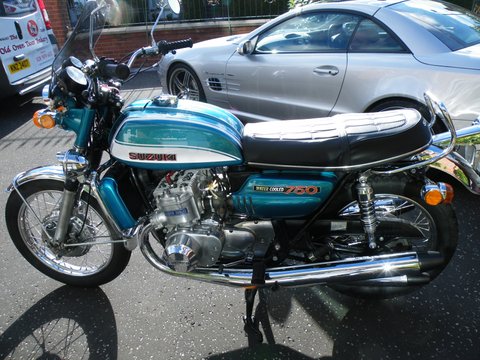 Gerry Burns' GT750J. Beautiful colour.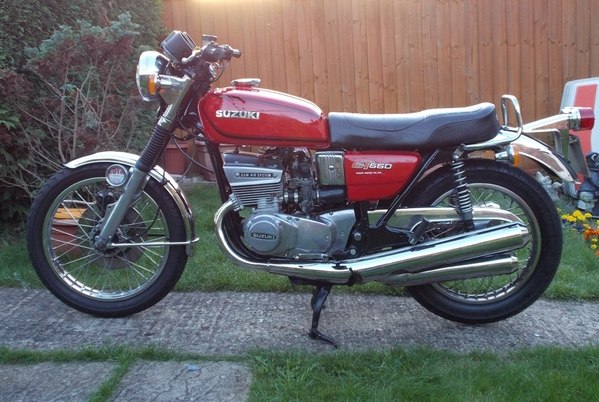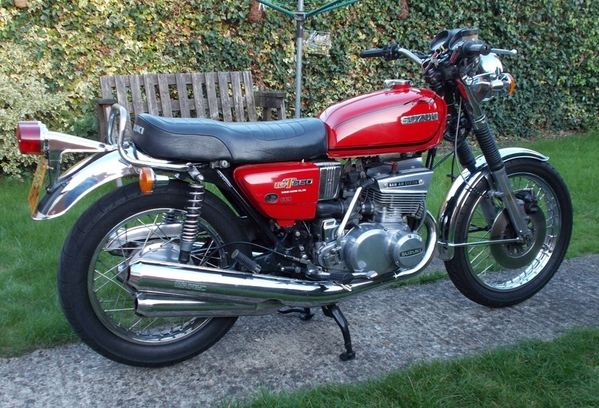 Jacqui Spicer's GT550 A. Her first classic Jap bike after mainly Brit & Yank stuff.
She can stop looking for oil leaks now.
Before picture of Nigel Foster's GT250
Nigel's finished project.
Dave Smith's GT380.
'Not quite finished' He says!
David Buchanan's GT250L...
David Buchanan's GT380A...
And finally, my favourite of the trio, his GT550M.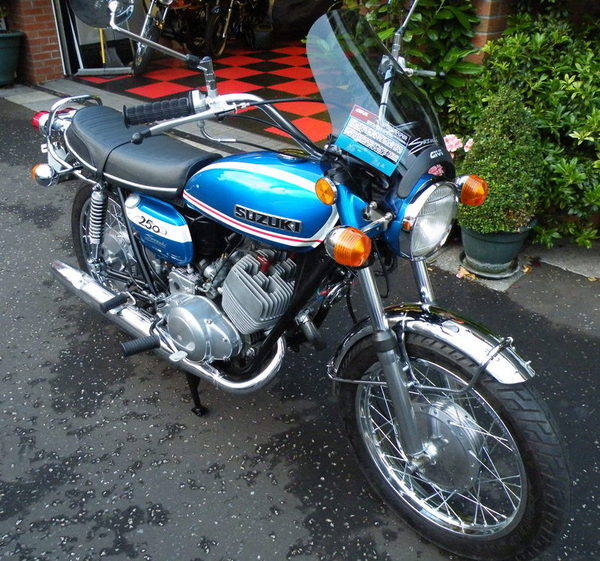 Gerry Burns' T250.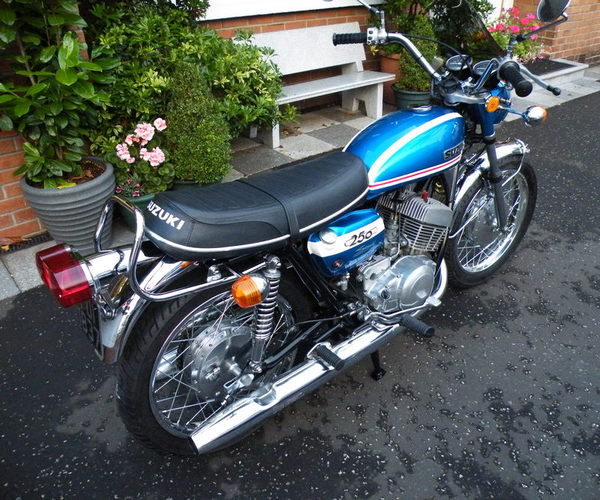 Not his favourite, says Gerry, but a great restoration.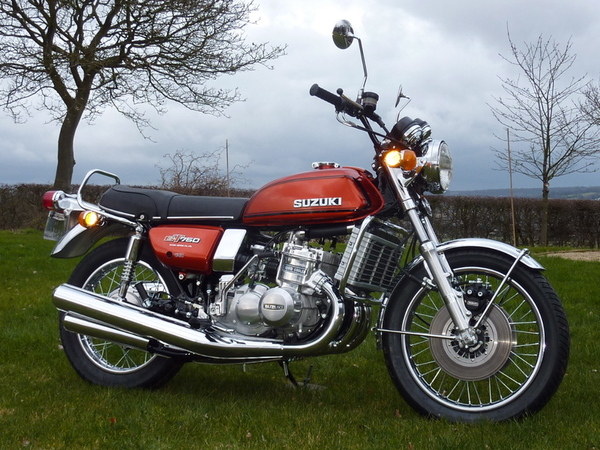 This beautiful GT750L belongs to Chris Smith of Buckinghamshire.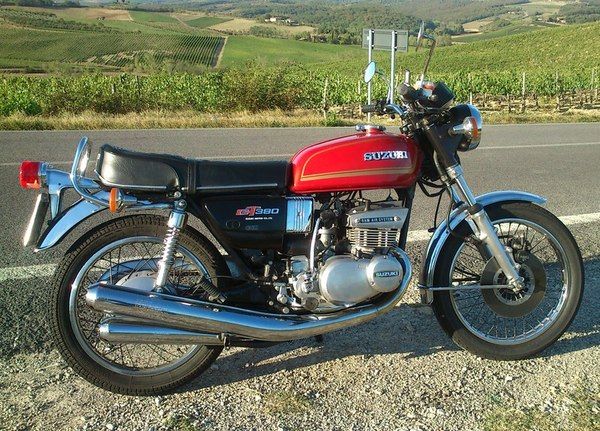 Roberto Marzocchi's GT380. From Italy.
These two shots are from Alberto Bruzzone in Italy. His RG is nearly finished.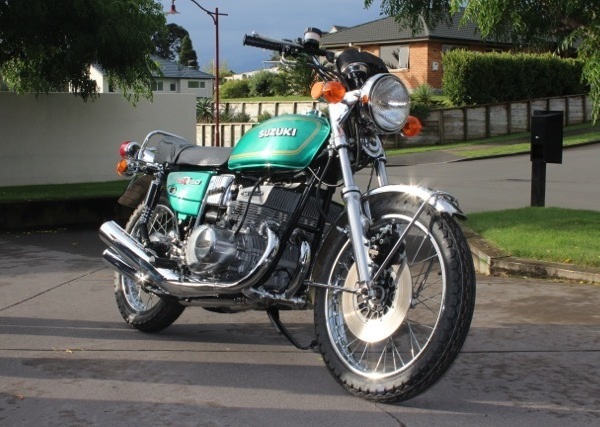 Mark Penketh from New Zealand has done a stunning restoration on his 550.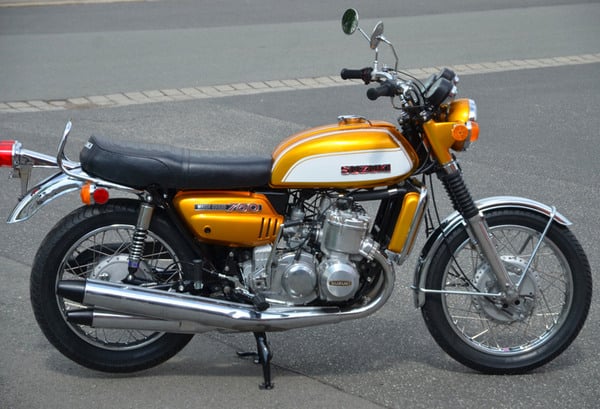 From Germany, Michael Pabst's GT750J. Looking good.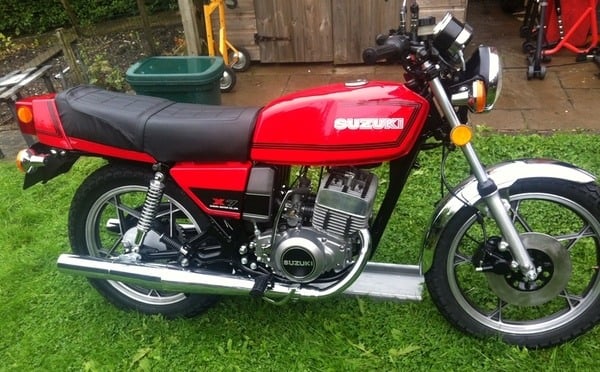 Tony Farrell's X7.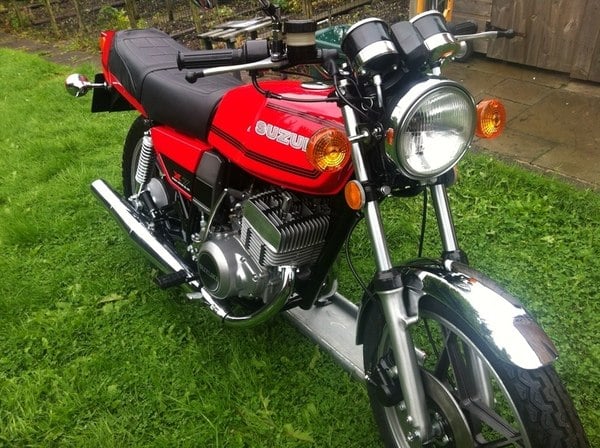 Tony has done a really good job on this one.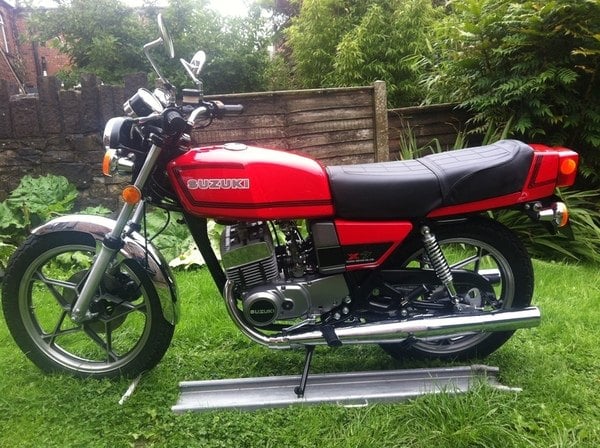 He's got another threee to go!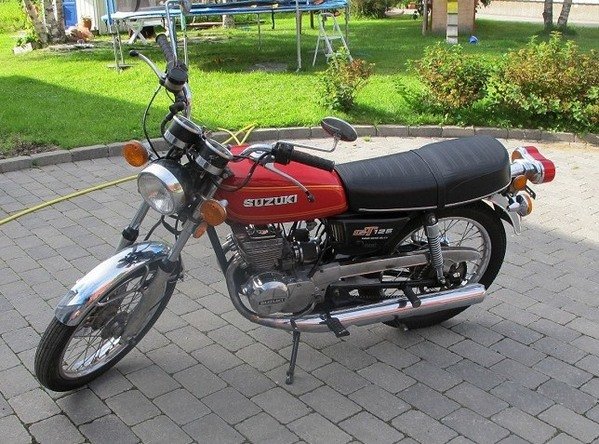 This GT125 belongs to Hans Olsen of Denmark. This is the before shot.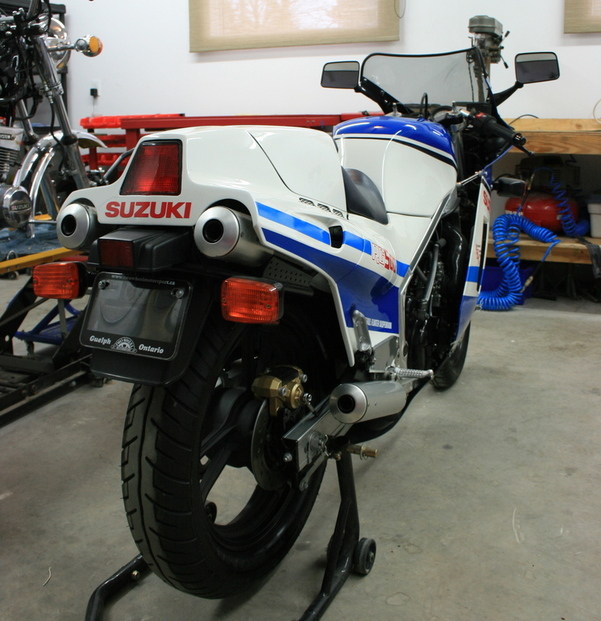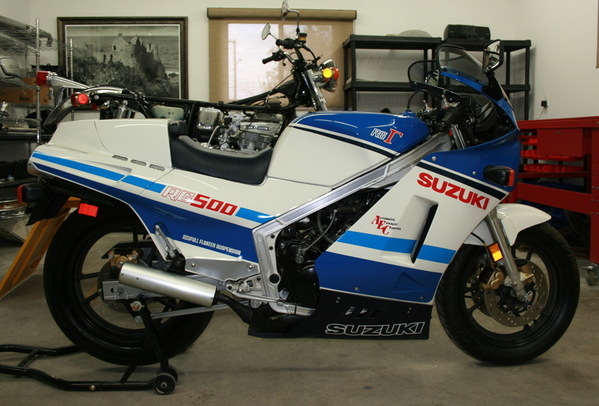 This immaculate RG500 belongs to Robbie Wilson of Ontario, Canada.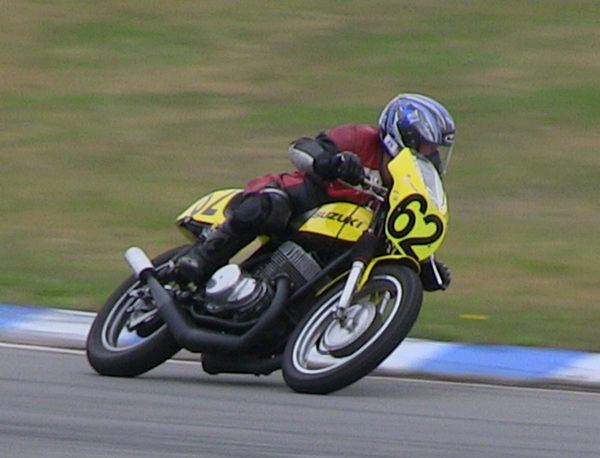 Action shot of Terry Knight. He's now coming up to 65 years of age!
No crashes yet and two seconds and a third at his last meeting. Rock on Terry!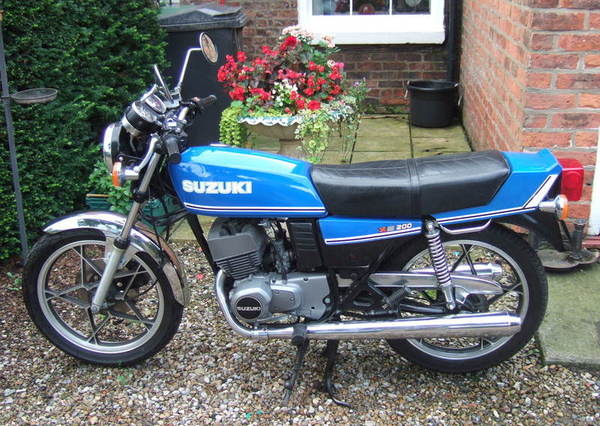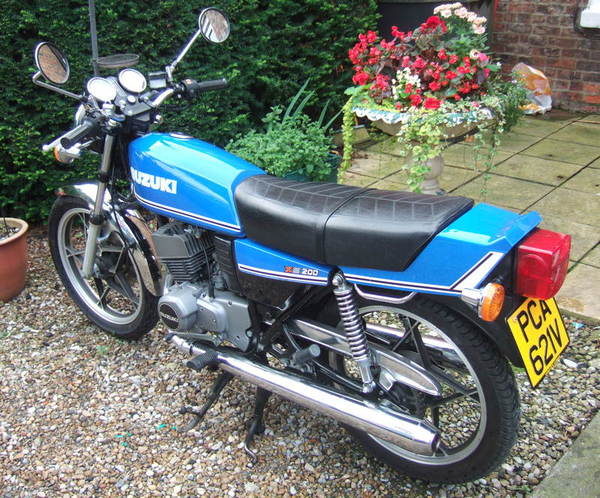 This X5 belongs to Adrian Starr of York, who is the original owner.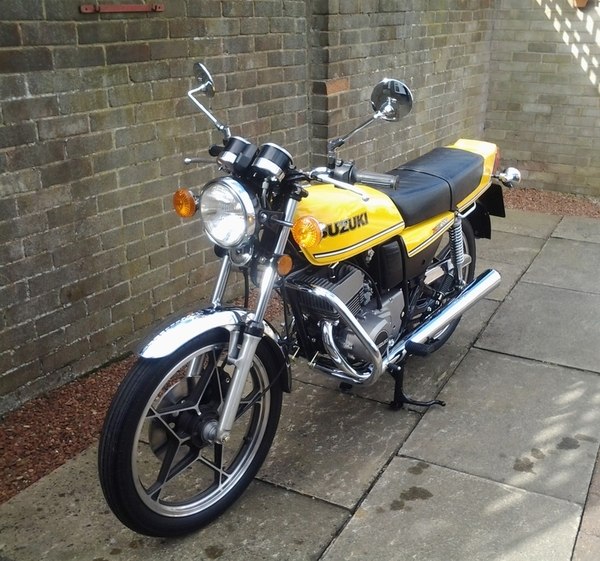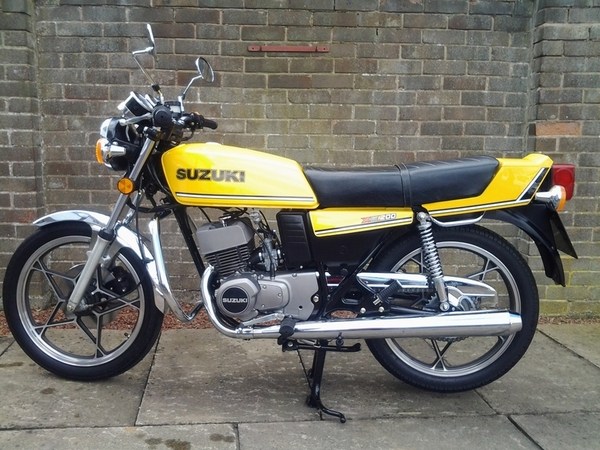 Another X5! This time it is Mark Goscinski's immaculate example.
Michael Kennedy's GT185. Work in progress.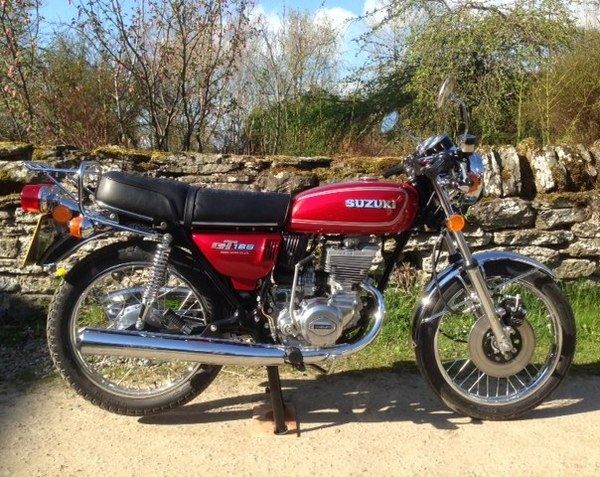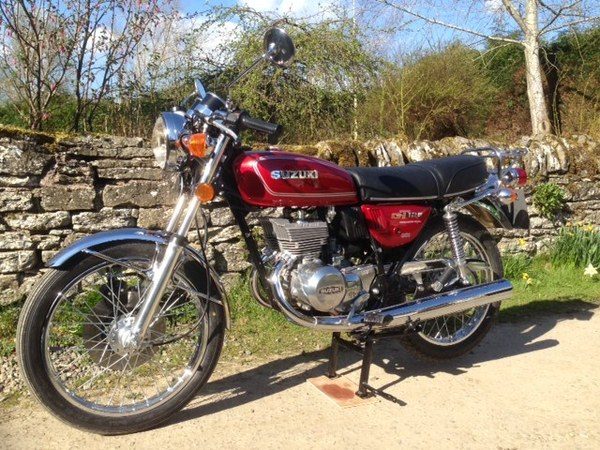 Two shots of the finished project. Good job Michael!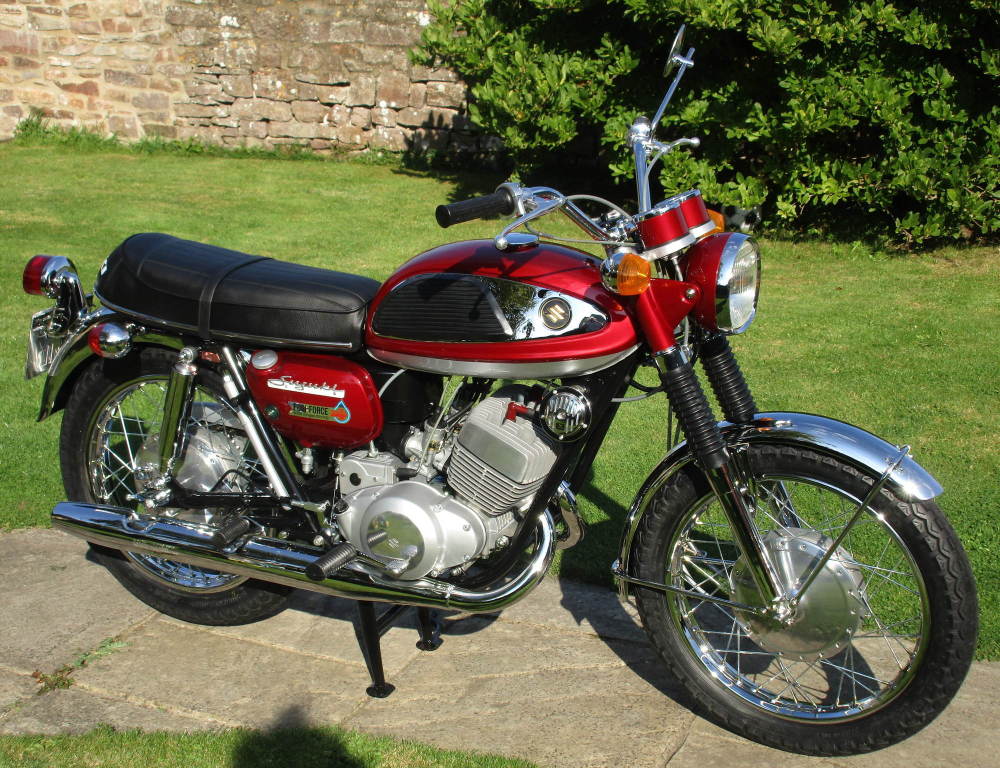 Paul Cann's 1968 T305 American import. Probably better than the day it left the factory.
Colin Kent's Seeley G50 - Not a Suzuki, but with some Suzuki parts. I love singles.
This is Eero Autio's GT550 K. All the way from sunny Finland.